Tommy Loy, Dallas Cowboy Trumpeter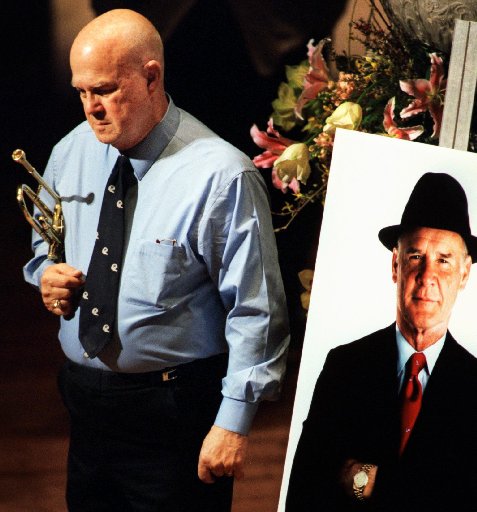 Tommy Loy,

Dallas Cowboy Trumpeter
courtesy of Lindi Loy, the Loy Family, Michael Granberry of the DMN and so many fabulous memories
On Wednesday night before Thanksgiving in November of 1966, Tommy Loy's home phone rang. On the other end of the line was Mitch Lewis, one of his Air Force buddies he hadn't seen or talked to since 1955. Mitch told him he had been assigned the task of locating a trumpet player for a possible, experimental solo National Anthem for the league's first color-televised Thanksgiving Day football game. He instructed Tommy to be at The Cotton Bowl around noon the next day for the tryout with Mr. Clint Murchison, the owner of The Dallas Cowboys football organization. Tommy asked if he could stay for the game, regardless of the outcome of the audition and the man assured him that would be fine. It would be the very first game Tommy ever attended.

After he performed The National Anthem for Mr. Murchison, he waited to hear if he got the job. The clock was fast approaching kickoff and he hadn't heard if he was selected so he prepared to find a place to watch the game. Five minutes before kickoff, he got the call that Mr. Murchison wanted to go with his solo rendition, which began what would be a 22-year stint as the Dallas Cowboys solo trumpeter.
Michael Granberry, a staff writer for The Dallas Morning News, wrote "And for all the years that followed, the Loy family sat in covered seats under the press box and the Cotton Bowl and then on the 30-yard line at Texas Stadium. For many years after launching his Cowboys career, Loy's solo was seen on television, even, one occasion, national television until pregame commercial time became so valuable that CBS decided to ax the national anthem from the broadcast."
Granberry described Tommy's rendition as a one-of-a-kind experience of being present at a Dallas Cowboys home game. He went onto say that his moving, distinctive trumpet follow at The Cotton Bowl from 1966 until early in the 1971 season, when the Cowboys moved to Texas Stadium in Irving.
"The quiet dignity Tommy brought to the task stood out amid the gaudy spectacle of a National Football League game. No one accompanied him, aside from the tens of thousands fans sitting in the stands," added Granberry.
Loy's Super Bowl V experienced is embedded in the family folklore. Singer Anita Bryant was supposed to perform the national anthem, but she got sick. The late Tex Schramm then the Cowboys' president and general manager, told network officials: "I have a guy who can play the anthem for you." So Loy got the call the night before the game. He and his wife, Carolyn, hopped a quick flight from Love Field to Miami just in time for him to blow his horn while wearing a white dinner jacket and black bow tie.
Whether at the Super Bowl or the Cotton Bowl or Texas Stadium, his anthem experience was, his daughter says, the thrill of a lifetime. "It was really meaningful to him. My dad was basically a patriot," she added. "It was an honor, a privilege. He took it very seriously. And, of course, being a musician, he loved the attention, because he was a natural performer."
Born in Denison, Texas in 1930, Loy was the son of a homemaker mother and a father who worked in the hotel business, managing the historic Denison Hotel. His dad died when Loy was 11, so his mother, grandmother and step-grandfather raised him.
During his SMU years, he got invited to join a jazz band called The Cell Block Seven. He enrolled in SMU in 1948, when college football great Doak Walker was still a future Heisman Trophy winner. Loy spent two years in the Air Force and finished his music education degree from SMU in 1955.
On a fall Saturday in 2016, The Sherman Jazz Museum in Sherman, Texas, held a Tommy Loy Celebration Day. Loy's widow, Carolyn, attended the opening party, along with Lindi and Laura, two of the couples' four daughters. "He was my dad, but I had no idea how good he was, what an influence he was on other musicians and how well-known he was," says Lindi Loy. "His name, Loy, was even the answer to a New York Times crossword puzzle. The clue was 'Cowboy trumpeter'. And the answer of course was Loy.
Growing up "and being a part of that whole experience, I loved it," added Lindi, recalling fondly the times her dad took her onto the field at the Cotton Bowl, allowing her to snare the autographs of some of the teams' most iconic players, from wide receiver "Bullet Bob Hayes to Hall of Fame defensive tackle, Bob Lilly, to free safety Cliff Harris. "It was magical," says Lindi who's working on a book about her dad, titled Tommy Loy: The Man Behind the Horn.
Tommy and Carolyn raised their girls in Dallas' University Park suburb, where they graduated from Highland Park High School. "Dad worked two jobs to keep us there and Mom at home to raise us," Lindi says.
His day job was that of a recording engineer that took him to "several well-known recording studios, one being PAMS Recording Studio in Dallas. He was instrumental in the jingle industry during the late 1950s and early 1960s. And then his night job, Thursday through Sunday, was playing his horn in his Dixieland Band."
"That was dad's true love," added Lindi. "If he could have made a living playing Dixieland music, he would have done that. And the older he got, the more he played."
Loy died of pancreatic can in October of 2002 when he was 72. "He passed away at the prime of his musical career," Lindi says. He performed in the Edinburgh Jazz Festival in Scotland just weeks before he died.
In 2000, Loy performed his trumpet solo of the national anthem at Landry's memorial service at The Meyerson Symphony Center at the request of the Landry family.
And then in 2013, the Cowboys did a very cool thing, Lindi says, by bringing back the tradition of the trumpet-solo anthem. The new trumpeter is jazz musician Freddie Jones. At the beginning of the 2013 season, the Cowboys invited Lindi and her sisters to a game and lined them up on a platform near Jones as he played the anthem. Each sister was given a Cowboys jersey with the No. 22, "representing", Lindi says, "the 22 years Dad played the anthem." One sister held the Cowboys blazer her dad used to wear; another held his trumpet.
The famous Tommy Loy trumpet and the cornet he used to play with his Dixieland band, are at The Sherman Jazz Museum, where the museum showcases horns played by such greats as Doc Severinsen, Maynard Ferguson, Clark Terry and Marvin Stamm, among others. And now, Tommy Loy's horn will be right there with them.
HI Lindi! I saw a comment you made about your Dad passing in 2002. I am sorry to hear that. I lost my father about the same time but I wanted to let you know how what a special place in our family YOUR Dad had. My father, as Cowboy season ticket holder, always loved your Dad's trumpet playing at every home game. I remember how stupid I felt one day in high school when I finally put 2 and 2 together and realized that was your dad! Take care and have a great Thanksgiving!

Ted

Interview with Jim Long – TM Productions

Your Dad never really wanted to be a producer or an engineer. He wanted to play his horn. As good as he was with the clients and the singers, I felt that I didn't get the best out of him – it was a paycheck to him. So I was frustrated with him a lot of the time. I left like I never reached him or could motivate him because he was more interested in playing.

He had so much talent in so many different ways but he focused on playing. We were in the business of music and we were working on an assembly line. After the original recordings were made, the fun is over and the grind started and he was at the end of the line and I'm sure got bored as hell listening to the same line for the 100th time with a different call letter. I'll never forget watching the Cowboys games and having someone who worked with me had such a wonderful opportunity to play and I don't think he ever missed a note.

We were not close but he was a fun guy, he had a good sense of humor. I would always look forward to the office Christmas party and after Tom got loaded he would pick a fight and tell me all the things that he had been storing up for the year. After several years of that, I used to go up and tell him I was ready to take my medicine, and it wasn't any fun for him.

He functioned at a pretty high level but every once in a while he would go to lunch and not come back. It didn't happen a lot but it caused problems. He was so smart and knew about so many things.

Bernie Arendes – Air Force Buddy

Remembers Tom showing up from San Antonio, TX and joining the band. Although they were in the military, it was like being in college without the books.

He remembers Dad as a good musician who played French horn and he sang very well. He remembers that Dad was easy to work with and he ran the band when Steve Sample was gone.

They played at the officer's club, the NCO club and the service club. Every once in a while, they would go off base and play at the Selma Country Club.

Lee Roy Jordan

What years (how long) did you play for the Cowboys?

1963 – 1976 – 14 years

What year were you inducted into the Ring of Honor?

1989 – First year of Jerry Jones ownership – Recognized him as a leader of the defense. He felt like he had a great grasped on Tom's defense and could call the plays.

What do you remember about Tommy?

He had a warm, friendly personality – a fun guy to be around before the game.

How did you feel when you heard him play the National Anthem?

His playing was a sincere presentation of our National Anthem and showed a true allegiance to our country.

I know you were focused on the task at hand but did he help calm you and help you focus?

It really calmed me down and settled my nerves. The music was so pure and heartfelt and gave me an opportunity to relax before I went out on the field and to do my best for the Cowboys.

Tony Liscio

How long did you play for the Cowboys?

1963-1972 – 9 years – from the Cotton Bowl to Texas Stadium – When we won the Super Bowl

How did you feel when you heard him play the National Anthem?

You've warmed up and your adrenalin is going and then you hear that song. It's a beautiful song, when you hear it and you take pride in it. You know you've got to go out there and do your best. As soon as the song is over with, then you've got to go and take care of business.

John Niland

We knew as soon as Tommy started playing to stand still and pay attention. He was the best.
The sweet sounds from Tommy Loy's trumpet drifted up into the heavens from Texas Stadium for all the Dallas Cowboy fans waiting there until he joined them, rest in peace Dad.